Maadili Collective offers a selection of high-quality products created using sustainable techniques and materials local to Uganda. Handmade by established craftsmen and women, these goods connect the user and maker, creating a physical link between people and communities in different parts of the world.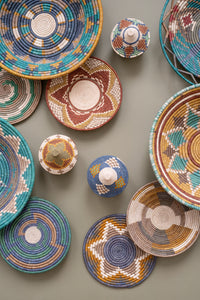 The ABOUND Collection
Amplify the impact of your decor with  the ABOUND Collection. 
Our spring basket selection features an intentional array of handwoven pieces that illuminate the new season with a purposeful color palette. Made with sustainably sourced fibers and a mix of natural and safe synthetic dyes in visually enriching hues, every basket provides artful beauty while honoring the culture of the Ugandan artisans that make them. Cultivated through traditional techniques, this collection enlivens your environment and celebrates the beauty of the natural world. 
Unconventional designs that have potential to positively influence an aesthetic and the life of the woman who made it.
SHOP THE COLLECTION
Spring/ Summer Collection
Black & Natural
Daring and courageous. Simple yet bold. The Black & Natural Basket Collection is a timeless statement that will add depth and meaning to your unique environment.
SHOP THE Black & Natural Collection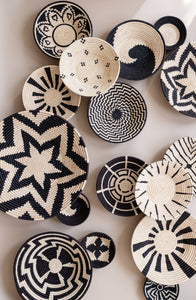 New Extra Large Black & Natural Baskets
From Her Hands, to Your Home
Jane Kakyo
"Since weaving my life has changed, I have gained freedom and can support my family and I thank God for this. It was a hard life before I joined the basket weaving cooperative, I was a widow supporting five children.  But when I joined this group I met different women with similar lives who were working and earning money to support their families. We meet every Saturday, we sit for two hours, making these baskets, giving each other advice and much needed comfort."
Learn More about the Artisans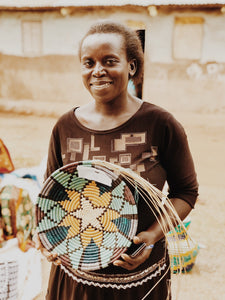 Let nothing be wasted.
Give new life to descended materials. The Ankole Horn Collection brings a second generation and new form to native Ankole Watusi cow horn. Rural Ugandan cattle farmers depend on raising herds that both brings food to markets and supports their families and communities. The horn is an upcycled material that is creatively reused into truly one of a kind home decor and jewelry items. No two pieces are alike.
SHOP THE HORN EARRING COLLECTION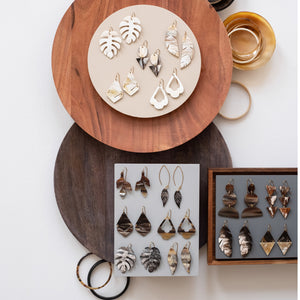 Modern pieces with cultural significance
Barkcloth is a venerated fabric with deep significance to the cultural identity of Uganda for over 700 years. Made from the inner bark of the Mutuba tree, barkcloth is produced in a laborious process using wooden mallets to flatten the bark into supple cloth with stunning signature colors that vary from terracotta to rust to deep cognac-brown. After each harvest, the exposed trunk is wrapped in banana leaves to protect it as new bark regrows. Trees can be harvested once a year for up to 60+ years providing a sustainable commodity while preserving cultural traditions.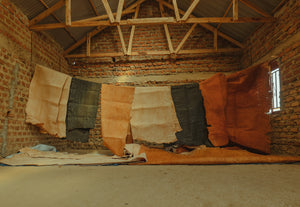 We are a Fair Trade Federation member
Our membership as a verified Fair Trade Federation company reflects our deep commitment to the principles of Fair Trade. We are part of a community dedicated to the highest standards of Fair Trade and the pursuit of a more just and sustainable world.
LEARN MORE ABOUT THE FAIR TRADE FEDERATION